Wikia is at the 2013 Game Developers Conference, and a talk by Jeff Agala and Jamie Cheng of Klei Entertainment revealed some of the creative processes behind the creation of the amazing Indie Ninja Game.
The primary goal for the team going into Mark of the Ninja? Avoid creating so much development "insanity". As Jamie Cheng stated, Shank was a tipping point with the amount of stress development created: "I see that as a failure. We can do better."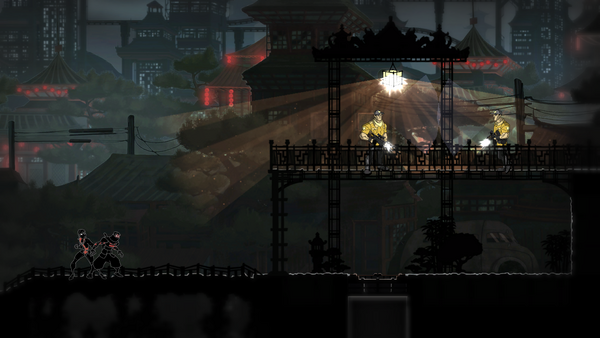 The fix? Figuring out early, and through rapid testing, when "you're in the wrong forest." Klei put great effort into cutting out features before they became bogged down in them. Early on in the development process, the company added so many combat mechanics into the game, they almost decided to make the "stealth" components of the game as secondary features. Mark of the Ninja almost became an action game instead of a stealth game.
As Cheng and Agala describe, creating a "testable hypotheses" allowed them to find what worked and what didn't and hone Mark of the Ninja into a "finely sharpened blade." This carried into the level design and artistic process as well, including the team's creative ways of translating their goal of "predictable AI" into the art design as well.
With Don't Starve on the horizon, Klei is taking these lessons with them forward, from design and well into production. The goal, as they see it, is to "abandon unsustainable development" and to "create processes that create art."

Ad blocker interference detected!
Wikia is a free-to-use site that makes money from advertising. We have a modified experience for viewers using ad blockers

Wikia is not accessible if you've made further modifications. Remove the custom ad blocker rule(s) and the page will load as expected.